Cleveland Allergy Society Conference
The Cleveland Allergy Society, in partnership with the Cleveland Academy of Osteopathic Medicine, will host the 2nd Annual Cleveland Allergy Society's Conference online Saturday, January 30, 2021 with an anticipated 8 hours of AOA Category 1-A specialty credit. Check back for more details.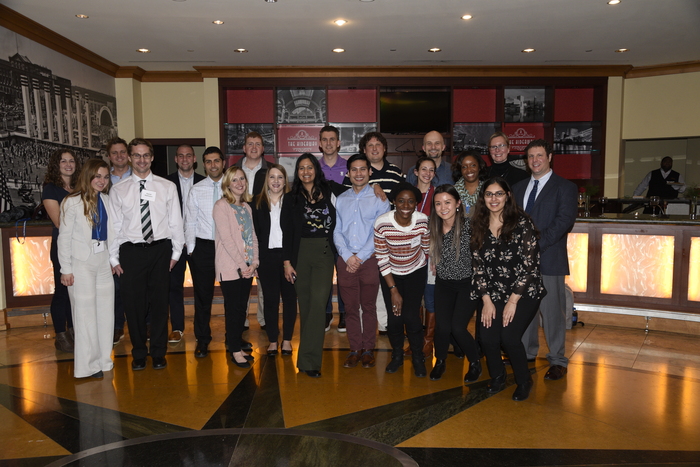 Registration
Regular Rates

(Before 1/10/2020)

Late Rates

(1/11/2021 and later)

Standard Member
$195
$295
Retiree Member
$195
$295
Fellow Member
FREE
FREE
Resident Member
FREE
FREE
Student Member
FREE
FREE
Non-Member
$395
$495
Agenda
7:30am Registration
7:45am Program Begins
Update on Eosinophilic Esophagitis | Speaker: Shan Shan Wu, D.O.
Allergy and Immunology Fellows Presentations

Ryan Shilian, DO
Craig Sewell, DO
Lauren Fill, DO
Madiha Huq, DO
Marija Rowane, OMS-III
Phuong Daniels, DPT, OMS-II

Update on Dermatology | Speaker: Tina Abraham, D.O.
Office conflict and politics | Speaker: Robert Hostoffer, D.O.

Contract
Hiring and firing
Collection and billing

Body box Interpretation | Speaker: Robert Schilz, D.O., PhD
Food Allergy Updates | Speaker: Devi Jhaveri, D.O.
Peanut OIT | Speaker: John Johnson, D.O.
Food Allergy in the Infant | Speaker: Amy Marks, D.O.
Additional Information
Coming soon!
Exhibit/Sponsors
You are cordially invited to participate as an exhibitor at the Cleveland Allergy Society's 2nd Annual Seminar in partnership with the Cleveland Academy of Osteopathic Medicine's 56th Annual Conference.
Our program moderator will host this year's event virtually online with pre-recorded presentations from leaders within the field including interactive Q&A sessions with each speaker and presentation and audience following each presentation. Although the event is being held virtually, we expect an increase in allergy and immunology specialists this year as it will allow our fellow allergy and immunology physicians from across the county to participate safely from home during these unpredictable times as we respond to the COVID-19 pandemic. It is anticipated approximately 350-400 physicians from across Ohio and surrounding states will attend the three-day conference including 60 allergy and immunology specialists. Overall, this medical education program will offer an anticipated 30 AOA Category 1-A CME credits, as well as the opportunity for physicians to meet with representatives from companies whose products and services enhance their practice of medicine. All exhibitor virtual presentations are separate from CME presentations.
Location:

LIVE Virtual Allergy and Immunology CME Seminar

Date:

Saturday, January 30, 2021

Program Hours:

8:00am - 6:00pm
Exhibitor Opportunities

Bronze

Logo Display

We will display your single product logo during the start of the seminar and in between Silver sponsors. List of pre-registered physicians' names provided.

Silver

Virtual Exhibit / Presentation

We will air your already produced product(s) commercial and/or you may speak live during the scheduled ten (10) minute non-CME breaks. Logo is also included in the commercial slide show. List of pre-registered physicians' names provided.

Actimmune (Horizon Therapeutics)
Xolair (Genentech)
Hizentra (CSL Behring)

Gold

Breakfast Speaker: Non-CME Breakfast

Sponsored by Fasenra (AstraZeneca)

Lunch Speaker: Non-CME Lunch

Sponsored by Nucala (GSK)

Break Speaker:

Sponsored by Orladeyo (BioCryst)

Platinum

In-Person Dinner Sponsor, Saturday 1/30

Please call for more information regarding this sponsorship. We are seeking to host an in-person evening function with an audience of local allergy fellows and allergy and immunology alumni.

Payments & Cancellation Policy

Payments are due on or before January 15th. Due to the limited number of virtual spaces available, spaces cannot be held and is only secured when payment is received. Cancellation requests must be made in writing. Refunds are provided only if the event is canceled.
---
Additional Sponsor Opportunities
Speakers
Here is the checklist of items that need to be completed
Please email the following to info@caomed.com:
Please complete the following online:
Presentation Objectives and Literature Review and Summary of CV (online)